This is my very first Korean Idol Featurette post and what better way to breakthrough than to feature my most favourite Korean Drama Actress. So here she is, my dear readers... Meet the very talented, beautiful and spunky actress..... Kim Jung Eun (김정은)!
Here are some tidbits about Kim Jung Eun
(김정은)
:
Age: 35 years old
Date of Birth: March 4, 1976
Born in: Seoul, South Korea
Status: Single (as far I have researched, that is)
Infamous Hook-Up: Lee Seo-Jin
Most Recent Drama: I Am Legend (SBS, 2010)
Most Recent Film: Le Grand Chef 2 (2010)
I first noticed Kim Jung Eun on the drama, Lovers In Paris which was aired in 2004. At that time, I wasn't that much into K-dramas because I was still hung-over Taiwanese Dramas. Yes, I was quite the F4 fan before (still am, actually). What really endeared me to KJE is her wide-eyed "caught off-guard" expressions and her utmost dedication to her character. This is one actress who will go the mile just to stay in her character. She is not afraid to look silly and act goofy when the scenes from her dramas call for it. And yes, this woman has an amazing sense of fashion, truly deserving of her Style Icon award.


At the 2010 Style Icon Awards
Being the star that she is, KJE is not far from controversies and real-life melodrama. In 2006, she met Lee Seo-Jin at the set of the drama, Lovers. Lee Seo-Jin played the role of a wealthy businessman/gangster while KJE was a plastic surgeon. The two characters first met under false impressions of each other and eventually fell in love with one another and in the process, they got entangled in the dark and complicated world of the mobs.
Lovers (2006)
The love story between their characters was so intense, that eventually these two brought their on-screen romance into reality. Fans of the two were so ecstatic and supportive of the couple and have even speculated that these two would end up tying the knot. They were so candid about their relationship, and Lee Seo-Jin was so open about his affection towards KJE. He even serenaded her at her talk show, Chocolate.
KJE going public about the break-up at her talk show, Chocolate
But in 2008, shocking news stunned fans of the couple. After 2 years of being together, the couple broke up. To add insult to injury, Lee Seo-Jin initiated the break-up via text message. Later on, rumours about the break-up started surfacing and points that the reason for the demise of their romance was Lee Seo-Jin's mother's disapproval of the relationship.
Indeed, this woman has been down in the dumps but despite her tragic heartbreak, she didn't wither away. She continued to work hard with her dramas, her talk show, and continued to make movies and
look fabulous
. Now, isn't that the best way to get back at the guy that dumped you? Beware of the woman scorned, they say.
KOFFLA Event in L.A
At the 47th Daejong Film Awards
Opening of Marc Jacobs Flagship Store in Shinsadong
In 2010, KJE was offered to play the lead role in the drama, I Am Legend (
나는 전설이다)
wherein she was able to impress her fans with her guitar skills and her singing ability.
In the drama she plays a 30-something
privileged
but unhappy housewife who had enough of her mother-in-law's meddling and belittling of her and her husband's indifference.
She divorced the husband, walked away from the luxuries and comforts of being a "madam", followed her dreams,
formed a band with her friends from high school and found true happiness, not in the arms of another man, but through her music (although there is a guy who was falling for her *haha*)
.
To end this first featurette, I would like to share these photos of KJE's outfits (which I really adore) in the drama, I Am Legend.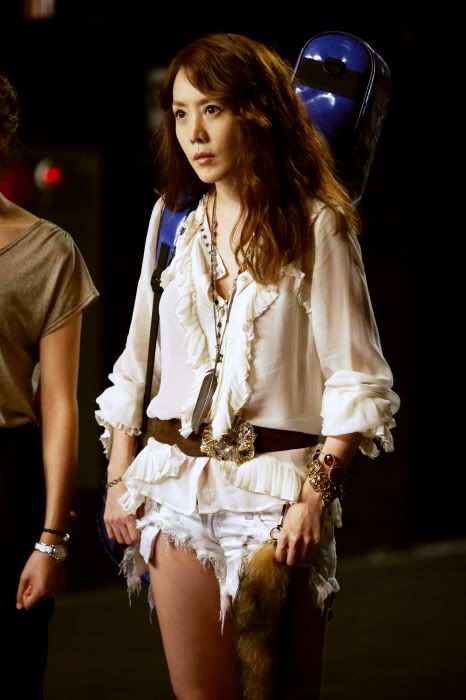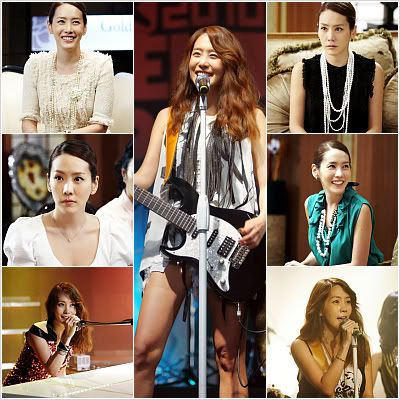 Post Script: This is my very first weekly feature, and to be honest I'm feeling quite nervous about this. This is something very new to me, usually I just post whatever random thought I have in my mind, and to do something that's structured is quite unnerving. I hope I delivered what I promised you, dear readers. And please bear with me, it's my first time and quite frankly, I am still in the woods about this whole featurette thing *haha* Luv y'all! Til next weekend!
Sources:
Thundie's Prattle
KJE World
Kim Jung Eun Facebook Page
Crunchy Roll
soompi
CoolSmurf Domain