It's almost Thanksgiving Day over at the US. I'm sure you guys are all excited to finally spend some time with your families and loved ones over good food. And even though we don't celebrate Thanksgiving over here, it doesn't mean I can't take a while to pause and muse about the things I am thankful for.
I am thankful for... The Gift of Life.
Though I wince whenever someone asks how old I am, still I am thankful to have lived this long. After having struggled and survived a natural catastrophe that had almost killed me and my family, I now look at my age as something to be thankful for, and not as something to be embarrassed about.
I am thankful for... The Gift of Joy.


Life is full of ups and downs. There are instances when the odds are so unfairly against us. But then again, life isn't always full of sorrow and pain. There's no single person in this world, living or dead, who did not come across struggles at least once in their lifetime. I am thankful that I see things in this light now because finally, I have found joy amidst the trials and disappointments I have faced. And now, when I look back, I had lived quite a colourful and carefree life; not everyone has the privilege to indulge in that.
I am thankful for... The Gift of Family.
Though we are not a perfect family (I doubt if there's one), I am thankful that at the midst of our imperfections, they are my source of joy, inspiration and strength. They were there when I was at my lowest of lows, gave me the strength to stand up, and they were always there to cheer me on and give me a pat on my back during my triumphs. They have been supportive and always encouraging, and I know someday, I can finally give back and show my gratitude for all the things they've done for me.
I am thankful for... The Gift of Friends.


When I was younger, I had tons of friends. But as I grew older, the number dwindled as my age flourished. Now don't let this sound off warning bells, this doesn't mean that I am a despicable person (lol). It simply means that I was able to separate the wheat from the chaff, and stayed with the better ones. And even though my circle of friends isn't that vast, I am confident that each and every friend within that circle are friends I can trust with my life.
I am thankful for... The Gift of Hope.


Though I wish to elaborate on this, I would rather not. I am very superstitious and I believe that talking about things before they have ever come to realize might jinx it. In the past, I was never so optimistic, believing that this would save me from all the drama and the heartbreak in case things don't turn out the way I wanted them to go. But ever since I did a revamp on my perspective of life, things have been looking and going good so far. And I am so grateful that I was able to humble myself and let my Creator work his magic. I have done everything that's humanly possible, the puck stops there for me, it's all up to Him now and... let Thy will be done. And whatever happens, whether it's a yay or a nay, I can finally accept, without acting like a spoiled little brat, that things happen for a reason.
And lastly, I am thankful for... The Gift of Love.


Clichéd as it is, but we only seem to pray when things have gone awry. During those crucial times when things seem to be going nowhere but downhill for me, for the first time, I thought to myself: maybe I was praying for the wrong things. Then one day I sat down and prayed that my Creator send me someone who will make me happy. I wasn't really serious about it, I actually took it as one of those nonchalant prayer/conversation with Him. But boy was He quick to respond, and brought Sunshine into my life. Though our time together was brief for I had to go back to my home country, he still manages to make my life sunny and bright despite the distance. It's not easy as long distance relationships are a killer (I don't recommend it lol) but bottom line: I'm happy. And I know, soon, really soon, he and I can pick up where we left off and hopefully, move on and weave ourselves our happy ending. If it doesn't work out that way, well then at least he kept me focused on my journey and filled it with hope. Because without that hope he's injected into my life, I would've totally given up on my dream of going back to Aussie pies.
Haha... I know, I know... This was such a sappy post, sheesh >.<" But once in a while, It's good to sit back and take a moment or two to think of what we're thankful for. Sometimes, our heads are so full of what we yearn for that we don't get to appreciate the things that we have. There's so much to be thankful for; we just have to take time to see all the goodness surrounding us despite all the struggles we face on a daily basis.
Advanced Happy Thanksgiving to all of you, my dears. Hope y'all have a wonderful and memorable celebration with the most important people of your lives, whoever they may be. :)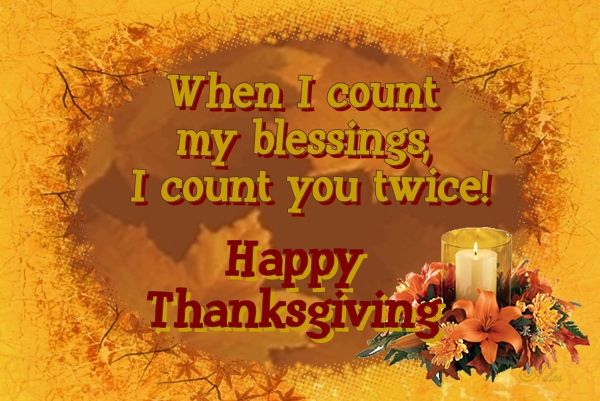 P.S. Do share your 2 cents on this: What are you most thankful for?